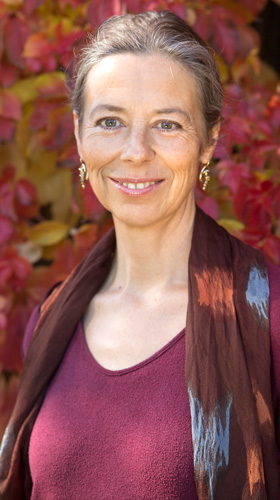 Barbara Buttinger-Förster: Curriculum Vitae
Oldest of five siblings, since childhood intimately connected with my native area, an archaic land of granite.
From a young age, there was an inclination towards art…the dream to study painting in Italy was fulfilled. At the Accademia di Belle Arti of Florence, I strolled over traces of the past. I found my second spiritual home in Tuscany. Here I encountered my spiritual teacher, Father Giovanni Vannucci, who opened my Christian worldview to a cosmic one and transformed it into a feminine view. I also met my painting mentor, Margherita Pavesi-Mazzoni.
Back in Austria I studied sculpture in Linz. The Summer Academy of Salzburg was also formative.
The marriage to the sculptor Andreas Buttinger-Caspar was followed by the births of our two children and the renovation of the an old farmhouse.
Afterwards I instructed art and crafts for a number of years. The next step was to train as a movement analyst and therapist. I have worked for years with mentally and physically handicapped people. My early interest in situational art became a part of my work, as did the trust in the resources of peculiarity and difference.
Fate had me encounter the Lakota Medicine man, Archie Fire Lame Deer. For many years I obtained direct access to the spiritual world of Native Americans by him. This experience created a connection with my own roots here, where so many witnesses continue to carry prehistoric culture. Twice I travelled to Lakota-Sundances in South Dakota, also twice to New Mexico, following the traces of Pueblo-Culture.
In 2000 I founded the seminar-center "Zaunreiter-Academy" in our house as a place of "Encounter through Art and Spirituality". This was the beginning of my networking with the same purpose.
www.zaunreiter-akademie.at. Here I am connecting my own artistic and spiritual work with seminar-work and teaching.
A one-month sholarship of the Land Upper-Austria in 2007 gave me the opportunity to realize a land-art-project in Latium and Tuscany, researching the traces of the old Etruscan civilization.
Several travels to the USA brought me to reservations of Native American tribes, their land and their ceremonies.
During a two year training in New European Geomancy and Geo-Culture, I deepened and evolved my perception of Mother-Sister Earth. The artist, earth-healer and teacher Marco Pogačnik was and is origin of endless inspirations for me on this field. In the last years I was part of several of his Geopuncture-Projects (Stone-Circles to reintroduce the dialogue between human culture and the planetary consciousness). Markos concept of "Cosmograms" as "a language that can be perceived not just by humans but also by other beings that do not have eyes to see and ears to hear", became crucial for my own artistic work.
Regular exhibitions since 1999
Kath. Hochschulgemeinde Linz (A)
Nordico Linz (A)
Galerie Cart / Pregarten (A)
Kulturzentrum Bruckmühle / Pregarten (A)
Bildungshaus Schloss Zell/Pram (A)
E-Werk Wels (A)
Treffpunkt Kunst / Ried im Innkr. (A)
Galerie K.O.N.I. / Freistadt (A)
Generali Linz (2008) (A)
Galerie im Zwinger / Schloss Hagenberg (2008) (A)
Werktage Schöner Ring, Wilhering, OÖ (2009) (A)
09 zum Quadrat - Ateliers als Brutstätten für Kunst und Gespräch, Linz (2009) (A)
Warum Kunst Raum, Wels (2009) (A)
Haus der Frau Linz (2010) (A)
Berufsvereinigung Bildender Künstler OÖ, Linz (2010) (A)
Kulturinitiative Narrenschyff, Kulturfabrik Helfenberg (2010) (A)
Auslandsstipendium des Landes OÖ für Paliano/Rome-Italy (2010) (I)
Landart, New Mexico (2011) (USA)
Galerie R2, Vienna (2011) (A)
Rytmogram, Bad Ischl (2012) (A)
Werkstatt am Hauptplatz, Linz (2013) (A)
Transition-Werkstatt am Hauptplatz, Linz (2013) (A)
Lebenswege, Stifter-Villa, Kirchschlag bei Linz (2013) (A)
New Collectors Book Launch, Basak Malone, NY (2014) (USA)
Mein Vogel, Keplerkoje Graz (2014) (A)
We Are Responsible 4 the Weather, Art Expo NYC 2014 Inpuls (USA)
Fanny Newald, Berufsvereinigung Bild. Künstler OÖ, Linz (2014) (A)
Hexenverbrennung - eine Transformation (Witch-Burning – A Transformation) (Performance), Hagenberg/Mkr. (2014) (A)
wortflucht oder: am leben bleiben (Installation), Stiftervilla Kirchschlag (2014) (A)
märchen.leben, K3 Steyr (2015) (A)
Participation in Marko Pogačniks Geopuncture-Project in Zdonov/Adersbach (2015) (CZ)
Magische Gebrauchsgegenstände*, Galerie der BVOÖ in Linz, (2016) (A)
Participation in Marko Pogačniks Geopuncture-Projects in Visoko (Valley of the Pyramids) – Bosnia, and in Vstiš near Pilzen - Czech Republic (2016) (CZ/BIH)
Realization of the Geopuncture-Project "Matrix of Life" on the land of Zaunreiter-Academy (A-4232 Hagenberg) in cooperation with Marko Pogačnik and an international group of artists. www.zaunreiter-akademie.at/... (2016) (A)